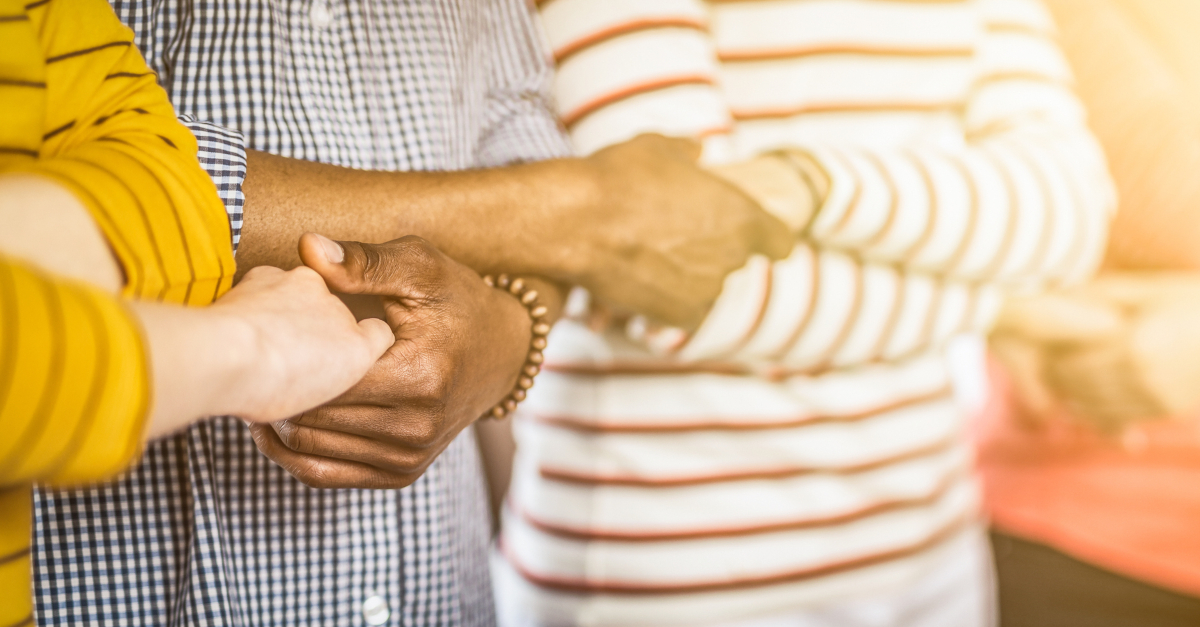 As we celebrate Valentine's Day this month, love—or the idea of love—seems to reside at the forefront of our hearts in a prominent way. But what is real love? What is 'convenient love' (selfish lust)? And what is blended 'love' (abuse)?  
This is what we know to be true about love: 
"Love is patient, love is kind. It does not envy, it does not boast, it is not proud. It does not dishonor others, it is not self-seeking, it is not easily angered, it keeps no record of wrongs. Love does not delight in evil but rejoices with the truth. It always protects, always trusts, always hopes, always perseveres." 1 Corinthians 13:4-8 
What Love Isn't
Despite what culture tells us today, real love isn't lust; it isn't shallow feelings or selfish desires. In fact, real love isn't selfish at all. It certainly isn't abusive, thieving, or defiling in any way. 
Currently, there are millions of oppressed, trafficked individuals (adults and children) being sexually exploited—many of them by their own family members—under the guise of 'love.' Not only is their innocence stolen from them, leaving them sullied and broken—but they are also left confused, believing they are put in this position because of 'loyalty' and 'love.' 
Others are groomed by "lover boy" personas who prey on young people looking for love. They'll flatter and shower gifts on their prey, making commitments to care for them in a way no one else ever can. The naïve fall victim to these lies and soon find themselves trapped with no escape, the lover turned abuser and trafficker. 
This isn't love. This is utterly evil and disgusting, destroying their very identities.  
Evil disguised as 'love' is rampant. 
To put this all into perspective, here are some staggering sex trafficking statistics: 
-Sex Trafficking is a $99 billion dollar industry.  
–Anywhere from 24 million-40 million people around the world are victimized by human trafficking at any given time.  
–2 million children are taken and introduced into sex trafficking each year.  
–91% of childhood sexual abuse victims report knowing their abuser.  
–65% of traffickers are the mothers of victims; 32% are the fathers of victims. 
–Many survivors report sexual abuse beginning between 3-4 years old.  
–50% of human trafficking victims have been involved with child welfare systems or juvenile justice systems.  
–80% of girls involved in human trafficking had been in the child welfare system in the past. 
–The average age of children running away from home and entering into sex trafficking is 12-14 years old. 
–Within 48 hours of running away, 1 out of 3 children are solicited for sex. 
–Victims can be sold anywhere from 15-40 times every 24 hours. 
But Jesus. 
Though these numbers are overwhelmingly heartbreaking, we are left with hope. There is only One way and One power to save all people and redeem all situations.  
"You intended to harm me, but God intended it for good to accomplish what is now being done, the saving of many lives." Genesis 50:20 
Real Love
"Defend the cause of the weak and fatherless; uphold the rights of the afflicted and oppressed." Psalm 82:3 
Real love is loving others God's way. It is fighting for those who cannot fight for themselves. We must stand up for these souls, taking the time to pray for those who are trafficked, defiled by their own family members, used for their bodies, or groomed down a pathway to settle for so much less. Real love is empowering others, valuing them higher than ourselves, advocating for the abused and oppressed, and sharing the Truth with everyone—offering true life, freedom, and joy. 
"Do nothing out of selfish ambition or vain conceit, but in humility consider others better than yourselves." Philippians 2:3  
If you want to see the story of Real love, read about the sacrifice Jesus made. He laid it all down and gave up His life so that we could have ours. He went low so that we could go high. That's real love.  
"But God shows his love for us in that while we were still sinners, Christ died for us." Romans 5:8 
We must advocate for those who, in seeking love, ended up in abuse. We must help them hold onto the hope that one day they might know their true worth. Jesus is the only One who can truly set everyone free in the way they are designed. It is our job to fight for them, advocating on their behalf, seeing their value, and praying that deception is lifted and everyone sees their true value. And that all will walk in the freedom, the power, and the destiny in which they were knitted together in their mother's womb.   Jesus does hear the cries of these people, cares for them deeply and desires for them to know His heart. He is love—real love—and he will show the way.
"The Lord says, 'I have seen violence done to the helpless. I have heard the groans of the oppressed. I will rise up to rescue them.'" Psalm 12:5 
 Not only must we advocate, but where possible, we must educate, so our young people won't fall victim to the lies of the enemy.  Our organization, The Foundation United, provides Speak UP curriculum for schools, REAL TALK for churches, and "The Cool Aunt Series" with Rachel Thomas for families to use at home. It will take all of us working together to protect our children's future and help them understand what real love is.
And if you find yourself alone this Valentine's Day, be at peace. It is far better to be alone and wait for true love than to settle for something less than, and even worse, something masquerading as love. Hold out for someone who will value you as worthy beyond price – this is the ultimate model, and God has shown us the way.
"This is how we know what love is: Jesus Christ laid down his life for us. And we ought to lay down our lives for our brothers and sisters." 1 John 3:16
Photo Credit: ©GettyImages/scyther5
---
---
Elizabeth Melendez Fisher Good is the founder and CEO of The Foundation United, a catalytic platform to end sexual exploitation and trafficking through systemic change. Fisher Good is a passionate pioneer and inspirational thought leader with a desire to expose the root issue behind sex trafficking — childhood sexual abuse. Her book "Groomed" (HarperCollins, 2020) recounts her own story of loss, abuse, and triumph. Statistics and resources quoted above can be accessed at https://www.thefoundationunited.com/statsandresources.